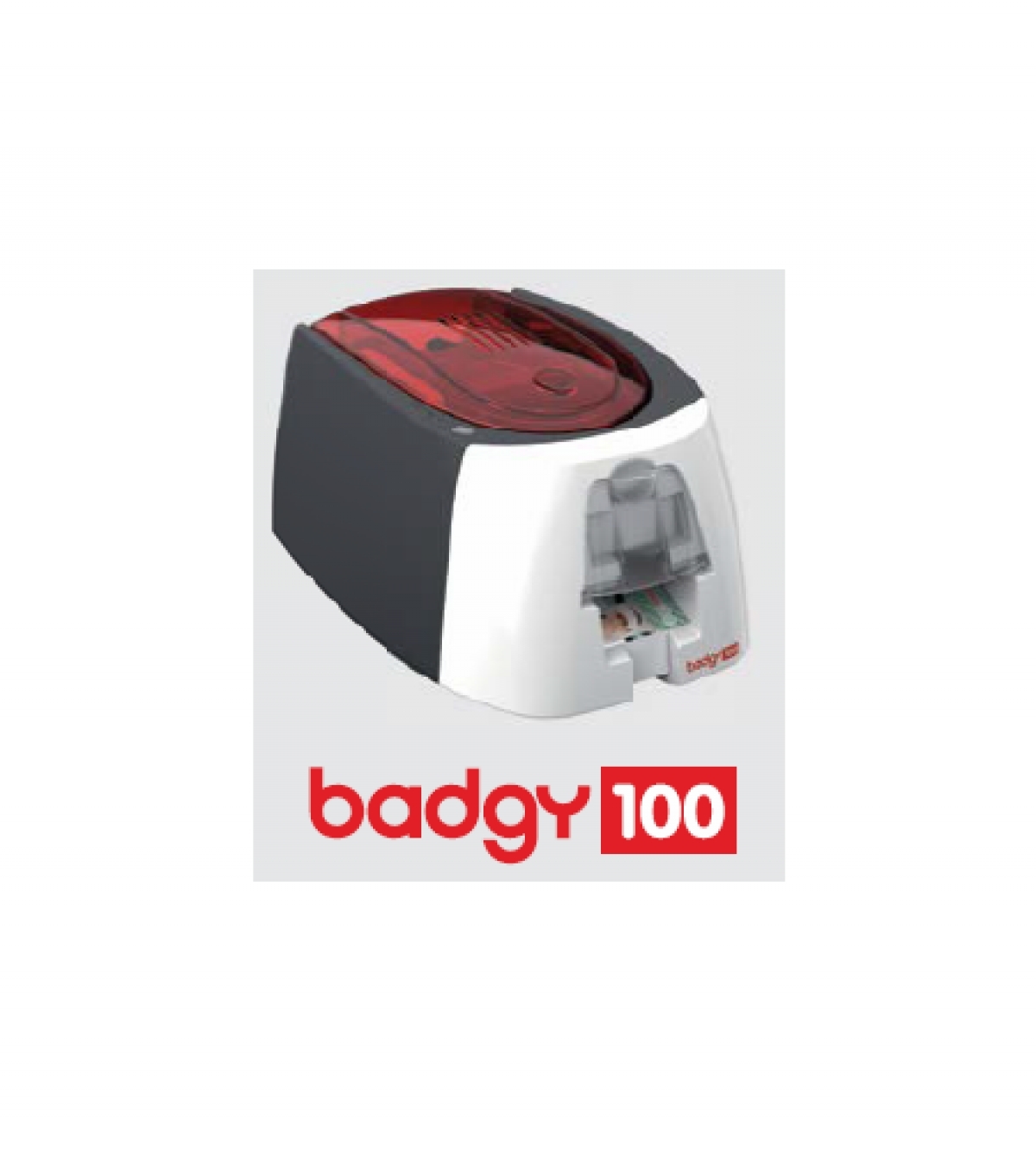 Badgy 100 Card Printer
Badgy 100: Print Single cards on demand
The Badgy 100 printer is ideally suited to your single printing needs and is perfect for limited budgets. What is more, its printing speed means that you can create a personalized card in less than a minute.
Choose the Badgy100 range for :

One-off card printing needs
Printing personalized badges on demand

Printing badges with a white margin
With Badgy 100, you have everything you need to instantly print professional quality badges yourself.
The Badgy card printer lets you create: Event badges, Business cards, Visitor badges, Access badges, Staff ID badges, Loyalty cards.

Staff ID Badge: Give personalized badges to your employees: name, photo… Even on their first day! Your employees feel valued and you enhance your brand image.
Visitor Badge: With Badgy card printer produce individual badges with professional print quality.Welcome your visitors by giving thempersonalized visitors badges in your company colors.Identify them at a glance and increase your in-house security.
Event Badge:For seminars or any business events, Badgy allows you to print personal ID badges in advance and/or on demand.Get ready to welcome your participants likeprofessionals!
Business Card:Don't waste your money!Badgy can also be used to print business cardsfor your employees!Update and print them when needed. The end of obsolete business cards.
Product Specification:
Printing Speed: 45 seconds per card
Detachable feeder with a capacity of 25 cards
Slide-out hopper with a capacity of 25 cards
Resolution: 300 dpi
Print modes: Color dye sublimation and monochrome thermal transfer
The Badgy100 package includes:
A Badgy 100 plastic-card printer by Evolis
50 blank white PVC cards
A color ribbon with a 50-print capacity
Evolis Badge Studio software, standard version*
A library of personalizable badge designs available to download free of charge
A wide range of designs for every business sector:
Employee badge design

Loyalty card design

School ID card design

Membership card design
*Evolis Badge Studio will help youcreate the badge you want
Createand customize your badge step by step… in a matter of minutes!
Create your badge from start to finish by following the instructions step by step orCustomize free existing models.
You'll find models for a variety of sectors included in the software or available for free download on our website. Change them as much as you want or create your own badge from a blank document.
These designs are adaptable: you can change everything! Add your logo, a different background, change the text.. yes, we have thought of everything!
Call Us Now 010-2776449 / 016-3563996 / 03-89597527 or email us at sales@equest2u.com.my

---